1993 Land Rover Defender 90
All original Defender, imported from London, England. These diesel motors are bullet proof & this design has proved to be timeless. This Defender "county" is ready to go, freshly serviced, new tires and clean chassis & body. 135,000 miles
Available for $24,000. email twopencemotorbikes@gmail.com if interested in viewing.
Land Rover Defender 110 Hi Cap
This 110 Hi Cap has been my favorite. The truck bed provides options for cargo. I personally used to transport a few motorbikes in this one. Upgraded with new LED headlights & a new custom interior this Landy has a rugged exterior & few creature comforts.
$20,000. SOLD
This Defender 90 is ready for adventure. Equipped with a 200 TDI motor, snorkel, winch, lift kit & beefy tires & bigger wheel wells to accommodate, this Landy is ready for the beach, mountains or wherever your heart may wander.
$25,000. AVAILABLE
1992 Land Rover Defender 90 County
In classic white, this gorgeous example is equipped with roof rack for gear. Modern LED HALO headlights add a modern touch & custom interior.
$26,000. SOLD
Great project bike. Needs finishing up. I have the wiring harness, coil pack as well as other items needed for completing.
Available $1,200. email twopencemotorbikes@gmail.com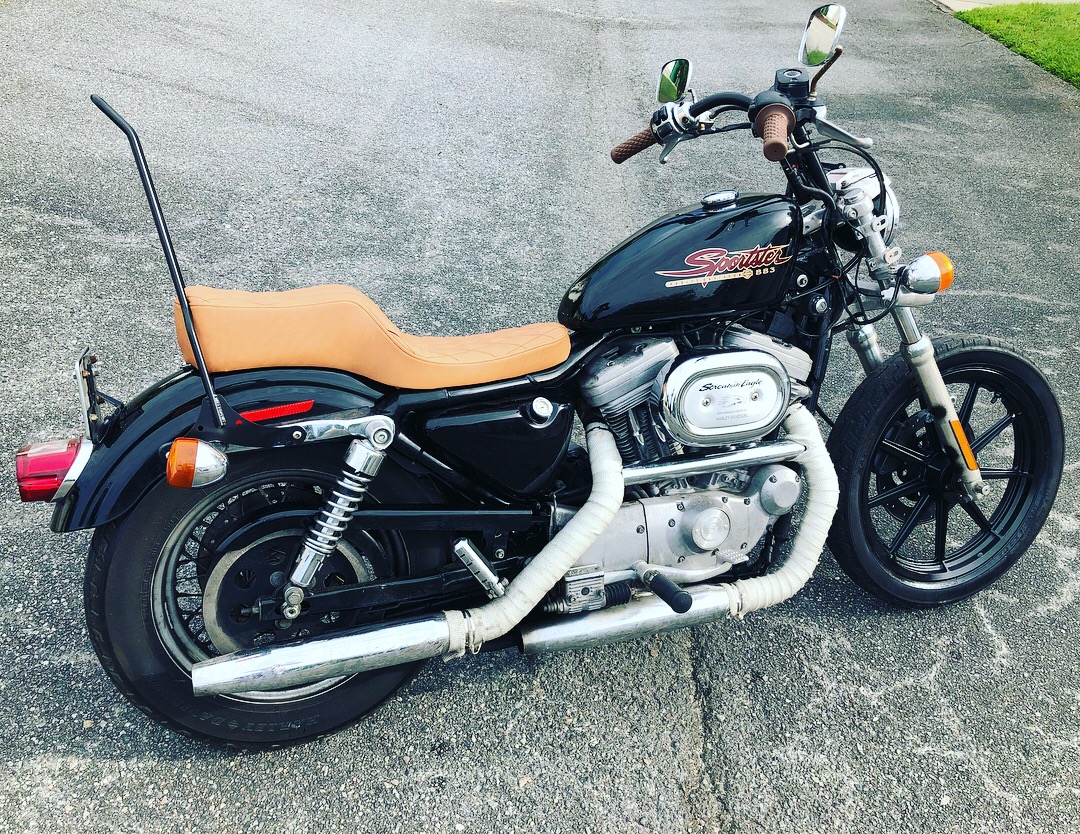 This 2000 Harley Sportster 883 has a throwback style to the 60's & 70's. With its King & Queen seat, high sissy bar and rabbit ear handle bars, you'll capture that retro feel on a dependable EVO motor. I know its an 883, a "girls bike" but I've had this bike on the highway and she cruises great at 80mph. Better than by 96 Softal Classic I might add. Come & get er. $3,500. AVAILABLE
Well this is a "Birth Year" bike for me. 1981 Great running and just needed a little facelift. She's ready to be back on the road. Runs great.14,000 miles. Clean title. AVAILABLE $2,800. email twopencemotorbikes@gmail.com
I love these 60's & 70's CB's. This one shaped up great as hoped. Its a Cali bike and and has over 40K miles which means she was loved & ridden. A daily commuter and now back on the road.
SOLD $2,800.
Well this is one of my favorite color schemes I've done on a bike. It reminds me of the first Triumph I owned back in 2008 when we moved back from the UK to Wilmington, NC. I purchased a blue 2005 Triumph Bonneville. Back to THIS bike... This 14,000 original miles bike is gorgeous. Bought it from the second owner. Runs great. Right foot shift.
AVAIALBE $4,500. email twopencemotorbikes@gmail.com if interested.
Well this is a bike that maybe wouldn't be your first choice to turn into a cafe racer. Why? Well she's an 1,100cc, 6 speed bike. I'm super happy with how she turned out and in the Two Pence spirit, I put my two cents on something neglected and give it a fresh makeover for a second chance.
SOLD $2,500. email twopencemotorbikes@gmail.com if interested.
This is the first bike I've ever done with two seat options. First is the tan diamond pattern that matches with the diamond patten grips & pipe wrap and second is an Oxblood red pleated seat. *pics on request.
SOLD $2,600. email twopencemotorbikes@gmail.com if interested.
Picked up from a local shop where it was bone stock & in need of a little slimming & trimming. Was built for a customer on the west coast but being a non-titled bike made it difficult to ship & stayed in the Carolinas.
SOLD $3,700.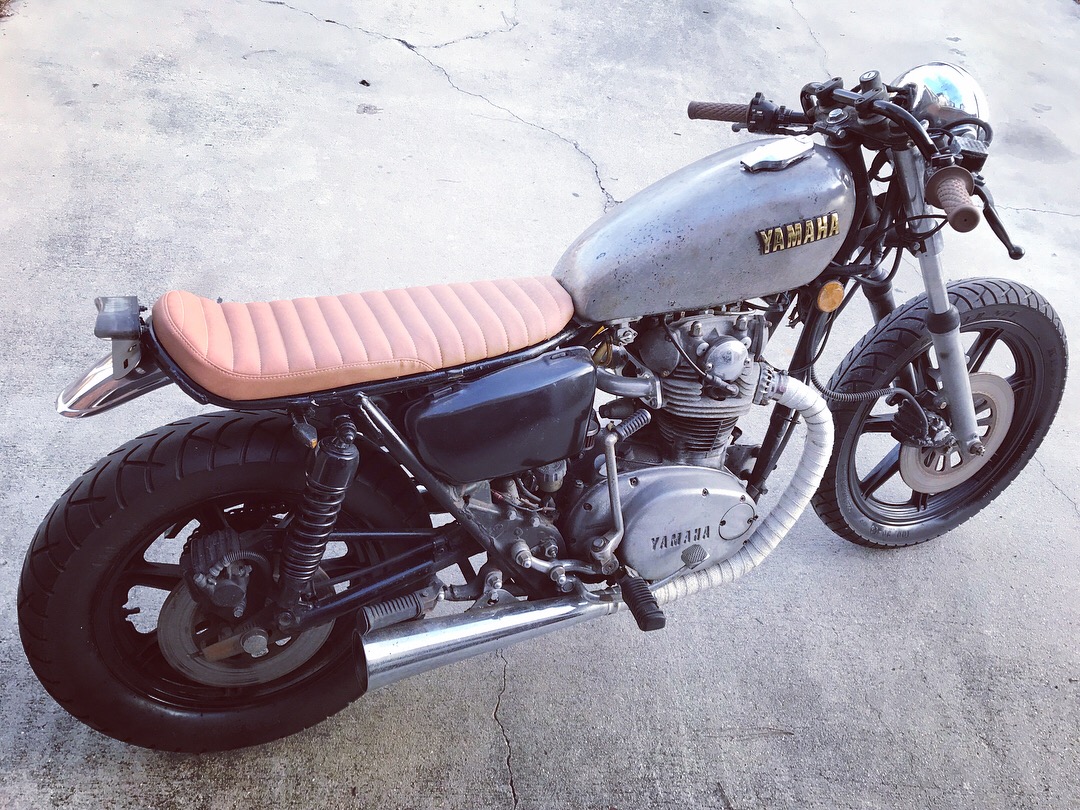 The Yamaha XS650 is perhaps my favorite motor for cafe racers. It has the look of a much older Triumph but without the leaks. This 1977 XS650 was one of my favorite tank / seat color schemes. The frame has a beautiful natural shape thats perfect for a slimmed down cafe seat that doesn't need cut or much modification. Truly a favorite.
SOLD $3,500.
This little 79 CX500 is a clean little cafe racer. Custom seat with a welded seat hoop clean up the lines of this Honda classic. Clubman bars & brown grips as well as white pipe wrap & air pods are some of your staple cafe racer mods. LED break lights & turn signals take some of the bulk off the bike & bring a fast, streamlined look.
SOLD $2,600. email us at twopencemotorbikes@gmail.com if you'd like us to keep our eyes open for another CX500 & we can build yours to your request.
What we have here is a 2001 Honda Shadow 750 thats had its fenders chopped, added some 10" mini apes and a springer, solo seat. The Vance & Hines exhaust makes er sound more like a Harley than a Honda. The gold grips, exhaust wrap & Indian tank decals all tie together nicely against a classic red & black paint scheme. This budget bobber won't break the bank and won't leave you stranded either with that Honda dependability.
Available for $3,500. twopencemotorbikes@gmail.com if interested